Soul Source Silicone Dilators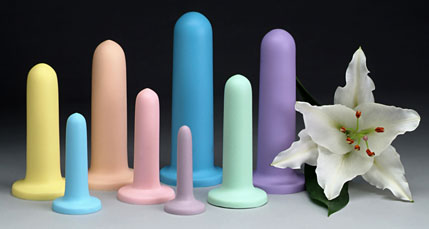 Soul Source dilators were created by a sex therapist and gynecologist to meet the needs of women undergoing progressive vaginal dilation therapy. Our products are manufactured in the USA by Soul Source using materials manufactured and purchased in the USA.
Our dilators are made of silicone rubber which makes them resilient, able to retain body heat, and easy to care for.

Our dilators are available in eight sizes. They are sold individually; however there is a price reduction when four or more dilators are ordered.

We recommend lubricating the dilator before inserting it into the vagina. Use a water-based lubricant designed for sexual activities. Do not use either a silicone-based or oil-based lubricant.

The proper way to apply the lubricant is to place some in your vagina and some on the dilator. This aids in comfortable dilator insertion.

Soul Source dilators are stable from -50 degrees to +340 degrees Fahrenheit. They may be chilled, used at room temperature or warmed to address vaginismus, post-surgical vaginal swelling or the effects of radiation therapy.

Clean the dilator after each use. Wash with warm water and mild soap. Pat dry and allow dilator to completely air dry. Store your clean dilator in cotton cloth or the open air. (Note: Soul Source dilators can be steriziled in boiling water. If you have a problem with yeast infections, cleaning your dilator can include sterilizing it in 1 one quart of boiling water with 2T of added vinegar. Be sure to thoroughly air dry the dilator. Using a hair dryer can be useful in assuring complete drying.)
Soul Source dilators are technical devices developed for progressive vaginal dilation therapy in the treatment of vaginismus and related vaginal conditions. For most effective therapeutic benefit, we recommend that women consult/work with qualified health professionals specializing in pelvic floor disorders.
The information in this website is about a technical device, vaginal dilators. This information should not be used during any medical emergency, or for the diagnosis of any medical condition. A licensed physician should be consulted for diagnosis and treatment of any and all medical conditions.